[RICH_REVIEWS_SNIPPET category="page"]
Nextlove opzeggen? In dit artikel lees je hoe je in een paar stappen van je account af bent. Volg de onderstaande stappen.
Nextlove opzeggen
Stap 1.  Bezoek https://www.nextlove.com. Klik op de "login" button en vul je Email en wachtwoord in. Klik daarna wederom op "Login"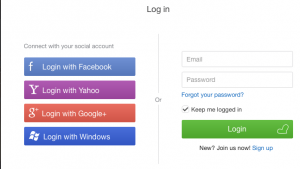 Stap 2. Klik op het profielplaatje in het menu en vervolgens op "settings"


Stap 3. Klik op "Deactivation options Temporary disable or delete your account"


Stap 4. Klik op "Disable profile"


Stap 5. Geef een reden van uitschrijven op en vul je wachtwoord in. Klik daarna op "Disable profile"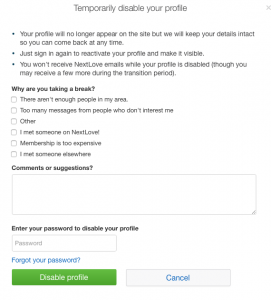 Let op: 
Your profile will no longer appear on the site but we will keep your details intact so you can come back at any time.
Just sign in again to reactivate your profile and make it visible.
You won't receive NextLove emails while your profile is disabled (though you may receive a few more during the transition period).
Je profiel is nu verwijderd van Nextlove.com
Geef een beoordeling
[RICH_REVIEWS_FORM]