[RICH_REVIEWS_SNIPPET category="page"]
Couchsurfing opzeggen? Een datingsite account verwijderen blijkt in praktijk moeizaam te verlopen. In de meeste gevallen moet je zelf uitzoeken hoe het werkt. Juist hierom hebben we van de populairste datingsites beschreven hoe je je abonnement of lidmaatschap moet stoppen.
Couchsurfing opzeggen
Stap 1. Bezoek https://www.couchsurfing.com/ en log in met je gegevens.
Stap 2. Klik op het profielplaatje rechtsboven in en vervolgens op "Account Details".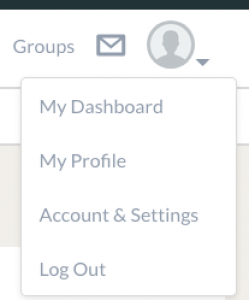 Stap 3. Scroll naar beneden en klik op "Deactivate My Account".


Je krijgt de volgende melding
Are you sure you want to deactivate your account?
Deactivating your account will completely hide your profile and you will no longer receive emails from Couchsurfing.
You can always reactivate your account later if you want to come back.

Stap 4. Klik op "Deactivate" om je account definitief te verwijderen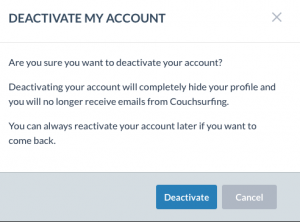 Je account is nu verwijderd! 
Geef een beoordeling
[RICH_REVIEWS_FORM]