[RICH_REVIEWS_SNIPPET category="page"]
Alt.com opzeggen? Een datingsite account verwijderen blijkt in praktijk moeizaam te verlopen. In de meeste gevallen moet je zelf uitzoeken hoe het werkt. Juist hierom hebben we van de populairste datingsites beschreven hoe je je abonnement of lidmaatschap moet stoppen.
Alt.com opzeggen
Stap 1. Bezoek https://alt.com/ en vul je gebruikersnaam en wachtwoord in. Klik daarna op "inloggen"
Je bent nu ingelogd!
Stap 2.  Klik in het menu op "Mijn dingen" en dan op "Profiel bewerken"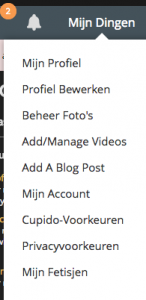 Stap 3. Klik onder het kopje account beheren op "Account Sluiten"



Stap 4. Klik op "Verwijder Mijn Account"

Stap 5.  Vul je wachtwoord in en klik op "Insturen"

We're sorry to see you go and hope you had fun on our site. Your username and profile will be deleted within 48 hours. Please take a moment to help us understand why you're deleting your account.

Je account is nu verwijderd! 
Geef een beoordeling
[RICH_REVIEWS_FORM]