Adultfriendfinder opzeggen
[RICH_REVIEWS_SNIPPET category="page"]
Adultfriendfinder opzeggen? In dit artikel lees je hoe je in een paar stappen van je account/abonnement af bent.  Volg de onderstaande stappen om je account te verwijderen.
Adultfriendfinder opzeggen

Stap 1.  Bezoek adultfriendfinder.nl en vul je gebruikersnaam en wachtwoord in en klik op "inloggen."


Stap 2.  Klik op je profielnaam en vervolgens op "Mijn Account."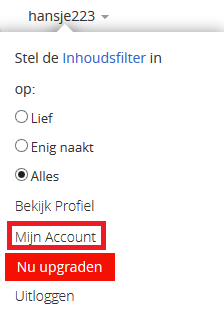 Stap 3.  Scroll naar beneden en klik op "Account sluiten"


Stap 4.  Klik op "Verwijder Mijn Account."


Stap 5.  Vul je wachtwoord in en klik op "Insturen."



* lees het volgende bericht nog als aanvulling:
We're sorry to see you go and hope you had fun on our site. Your username and profile will be deleted within 48 hours. Please take a moment to help us understand why you're deleting your account.
Jouw account wordt binnen 48 uur verwijderd.
Geef een beoordeling
[RICH_REVIEWS_FORM]